Let's start with a short introduction about two (of many) differences between European and American Football which highly impact the design of an offense:
Player availability
In contrast to coaches in Europe, our peers in the US rarely have to consider factors like roster size, practice attendance and player availability on gameday.
Number of practice reps
US-teams practice every day but the day after gameday, while starting each season with an extended pre-season camp. European teams, depending on the level, practice 2-4 times per week.
This article is targeted at the majority of organizations in Europe practicing 2-3 times a week led by amateur coaches – not at the few premium-level teams creating an 'almost-US-like' environment.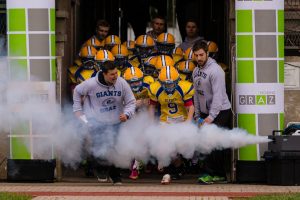 I've gained a lot of experience in this environment by coaching the Graz Giants youth teams for 10 years. In the recent past, I have supported the Styrian Reavers, Styrian Bears and Team Slovakia in the process of creating a completely new offense from scratch. Before ever starting to draw and discuss plays, we elaborate the following four topics.
Evaluate the roster – conservatively
Looking back at 10+ years of coaching, I've learned to never plan with the best case scenario when it comes to roster and player availability. The list of names you are collecting during off-season looks so promising, I know. "These three guys are motivated to play after skipping last season. That guy said that he wants to come out of retirement. Another player is moving to town and will play for us next season." Been there, heard that.
All that matters is who you can trust to be at 80+ % of practices from pre-season start to season end. Everybody else is a nice to have, but not a staple you can plan around.
Balance the depth chart
After a realistic evaluation of the roster I start thinking about how to create balance between all position groups. The reason for this is my constant worry about not being able to practice and play our offensive system, when relying on replacements who don't know what to do. Not being able to run the system erases all chances of winning, no matter how talented individual players on the field are. On the other hand, 11 players doing the correct thing presents a living chance to succeed and prevents you from completely falling apart when shit hits the fan.
The goal is being two-deep at every position at least from a playbook knowledge perspective. This creates chances for backups to get on the field. Imagine WR#6 who is not frequently used at the WR position also being your #3 RB behind the two starters. His chances of getting on the field just increased a lot. Will you hand off the football to him 15 times? Probably not. Will he be able to line up properly, pass protect and take a handoff every once in a while – absolutely. He basically keeps the show alive, which sometimes is all you can ask for, especially late in the season.
Who needs to touch the ball
I have never fundamentally considered this question, before I had the pleasure to get to know Coach Blaine Bennett, who was a big believer in making sure that the right people get their hands on the ball. His key question to answer during game preparation was: "Which player should get the ball how many times?" For me, this was a really cool new way to think about an offense. Until then, I was focusing more on how to schematically beat a defense compared to how to "outplay" a defense. These two ideas have naturally merged into: Which play will provide the best chance to reach the desired result AND who do I want to touch the ball in this play. An exciting addition to my thought process.
This may also be connected to my 'openness' towards changing player's positions. Sometimes even on short notice. At the end of the day, it is important how many times somebody touches the ball during a game. From which position they do it is not as relevant. Same is true for players who will most likely never or just rarely touch the ball. Consider moving them to the Offensive Line or Fullback position to increase depth.
Checking the boundary conditions
Covering all possible restrictions, like: (each situation is different, so these are just some examples)
Number of pre-season practices
Number of reps possible in one practice
Expected practice attendance
Availability of a meeting room before practices
These parameters serve as a nice guidance when thinking about the amount of schemes and plays you want to install. Doesn't mean not to think freely and brainstorm in the early concept phase, but it's always good to regularly run a feasibility study asking yourself: "How much is too much?" considering the existing boundary conditions.
So if you think about installing the 1993 Tampa Bay Buccaneers playbook, think again =) Instead, let's work on simplifying and right-sizing your package while keeping the ability to attack every inch of the field.
I offer coach-the-coach services to support you and your team's success throughout and beyond the discussed topics. Don't hesitate to get in touch: office@maxcoaching.at